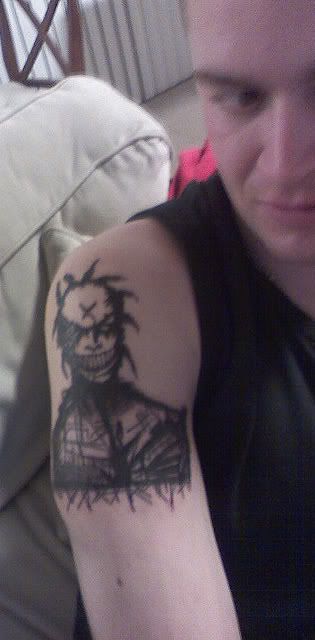 interests/hobbies: Music, microbrews, exploring, San Diego, movies (sci-fi and action mostly ie LOTR, Star Wars, AVP etc etc...), utilizing the interweb much more than I should be, video games (ie... KOTOR, Final Fantasy VII, Chronotrigger, Kingdom Hearts, very excited about Starcraft II and Fallout III. Currently obsessed with Jeanne D'arc on PSP).

type of music/favorite artists: \m/-_-\m/ Mostly a lot of metal...

A Perfect Circle, Amon Amarth, And Oceans..., Arch Enemy, Bile, Blind Guardian, Brujeria, Bury Your Dead, Butthole Surfers, Cannibal Corpse, Cattle Decapitation, Children of Bodom, Coal Chamber, Combichrist, Cradle of Filth, Danzig, Deftones, Devin Townsend Band, Dimmu Borgir, Dying Fetus, Fear Factory, Godhead, Gojira, Gwar, Hatebreed, Heaven Shall Burn, Helloween, Hemlock, In Flames, Into Eternity, Jack Off Jill, Johnny Cash, KMFDM, Kataklysm, Korn, Lacuna Coil, Lamb of God, Marilyn Manson, Megaherz, Meshuggah, Metallica, Mindless Self-Indulgence, Ministry, Moonspell, Mortiis, Mushroomhead, Nevermore, Nightwish, Nine Inch Nails, Orgy, Origin, Otep, Pantera, Rage Against the Machine, Rammstein, Rob Zombie, Samael, Scar Symmetry, Sepultura, Six Feet Under, Skinny Puppy, Slayer, Soilwork, Soulfly, Stabbing Westward, Static-X, Stormtroopers of Death, Strapping Young Lad, Three Sixes, Tool, Type O Negative, White Zombie, :Wumpscut:...

and much... much more... black metal... death... industrial... whatever.



additional info:

I am a Psychological Operations Specialist in the US Army Reserves, currently deployed in Baghdad, Iraq. I have been in country for about three weeks. This is my war journal. I used to be "hateoracle" on LJ and before that I was "soulessflame". I haven't written for a long time, but I'm forcing myself to get back into it.

I worked in residential education throughout college at San Diego State University (resident adviser and similar jobs), graduated in 2006 with a bachelor's degree in Criminal Justice Administration. I worked a couple non-profit jobs right after. First, as a child care worker... ran a pod of 8 boys at a group foster home. After that, I was a behavioral tutor at an academy for autistic children.

I am extremely sarcastic/cynical/introverted. Throw in a pinch of agnosticism and a whole lot of continuous searching for self-actualization, and you'll have an idea of what I'm about.

I've made some great friends off LJ years ago. I'm hoping I can do the same this time around.