HAY.
My name is Ruth I would enjoy new lj homies! Here is what I look like: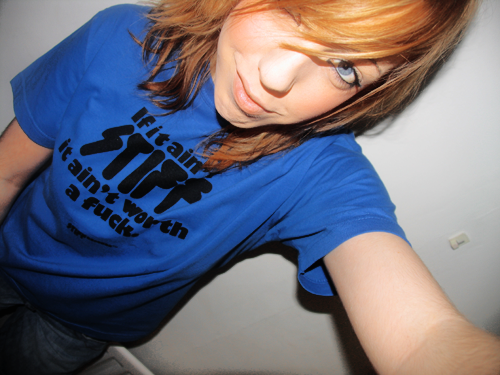 ~chek out my kewl t-shirt~


Here are some facts:
I am twenty years old. (I'm already aware that I look young so you don't really need to tell me.) :(
I come from Belfast, which is the capital city of Northern Ireland jfyi. I have Cerebral Palsy. I have dropped out of college three times because I have absolutely no idea what the fuck I really want to do with my life. At the moment I'm just trying to figure that out and I guess my journal probably reflects that so if you aren't up for a shitload of confusion and whining then I suppose it's best if we aren't homeskeets. I like to travel. My Mum lives in Tobago, in the Caribbean and I spend as much time there as I can. Here's what it looks like from a special viewpointy type place:





My dog is cool shit/my soulmate. Here is him.





Some things I enjoy:
Friday nights spent with my friends being generally mischievous and having fun. I'm an actual rebel.~
Reading, writing, ~smoking weed~, watching good filmage & listening to decent music (last fm)
My favourite films are as follows:
Apocalypse Now, This is England, Pulp Fiction, Dead Man's Shoes, American History X, The Shining, The Godfather, Home Alone ;P, Bug, Donnie Darko, City of God, Night of the Hunter, My Left Foot, Boys Don't Cry.

I am really interested in law and human rights & education; especially that of children with disabilities, and I think that I would eventually like to teach Special Education, at least I think that's the only thing I would get any satisfaction out of doing, but it's pretty much taken me this long to figure that out and I have nooo idea whether it's too late/how to start going about it. Idk though, anyone who's interested in that kind of stuff would be good to have as a friend! Motivated people, too. To rub their motivation off on me like sweaty sweat. The unusual, "liberals", and people with half a sense of humour are appreciated. A varied musical taste makes me like people, as well. I am really critical of myself, but not in the sense of omgi'msougleh, here's 40 pictures of me - I'm just scared of a lot of shit, but I wouldn't really consider myself a pussy; which is important. I have been through weird shit in my life. Just saying, my lj isn't always ~*~a bed of roses~*~ , I won't lie. I am basically just a stupid wee girl trying to be happy. Aw, what an ending. Fuck.
This was longer than I ever expected it to be.