Name:Sarynthra
Age:20
Gender:Male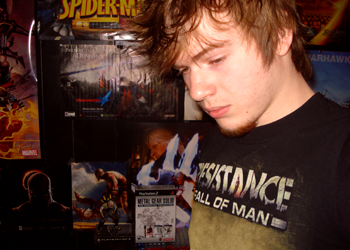 General: I'm a nice and friendly geeky gamer who sometimes rollerblades.I like comic books and all that stuff,I wanna work at Gamecrazy someday.
I have Playstation pajama pants,I like Spider-man alot.just check out my profile.

Games:Final Fantasy,Devi May Cry,God of War,Metal Gear Solid,Star Ocean,Dark Cloud,Rogue Galaxy,Midnight Club,Gran Turismo,
Grand Theft Auto,Spider-man Web of Shadows,MotorStorm,Uncharted Drake's Fortune,Heavenly Sword,Resistance,LittleBigPlanet,
Lord of the Rings Conquest,Dead Space and more. Playstation is Win. I want some good PS3 friends.

Music:Metal,Metalcore,Rock and some random stuff.

Movies:Lord of the Rings,Matrix Trilogy,Rocky,Rambo,Boondock Saints,X-men,Spider-man,Iron man,2008 Hulk,Speed,Terminator,Predator,
30 Days of Night,I am Legend,Apocolypto.
Jim Carrey, Jet Li ,Ray Liotta and Sylvester Stallone are my favorite actors.

TV:Battlestar Galactica,Stargate Atlantis,Legend of the Seeker,The Office,Space Ghost,Robot Chicken.

Anime:Bleach,Soul Eater,Code Geass,Samurai Champloo,Elfen Lied,Dragon Ball Z,Claymore,Devil May Cry,Wolf's Rain.
I love Johnny Yong Bosch and Steve Blum, my favorite voice actors ever.

I have so many fandoms It's not even funny.
Well this is just a glimpse of my fandoms and stuff,check out my profile for more!