Hello~!
My name is May and I'm new to Livejournal. I'm an escort and because of that I cant really give much of my personal information away.


I enjoy; shopping, cooking, reading, zombie movies, fashion, and makeup/esthetics/nails... and sex.
I do not enjoy; any kind of nut (sans peanut and only in the buttered form), trying to fill out the "I hate" section of an about me questionnaire without coming off as totally pretentious, drama/gossip (Keep it away!)
In my journal I post about escorting and sex, so if you're a prude than you probably won't enjoy it! I also discuss my weight and if you're not a fan of "ohmygod I am so mad at myself I ate that toast" then you'll get annoyed fast.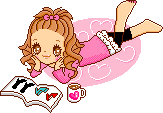 Thank you for looking, add me if you like!
May