Hello Everyone.
My name is Elliot.
I'm 19 years young. I'm living a pretty simple, yet crazy life right now. Things are changing everyday. I'm a hairstylist fresh through my training. I am eagerly trying to escape the midwest, I will not be here much longer. I've dreamt of California for years and its so close now I can taste it.

I think of myself as a pretty easy-going simple guy, but to an outsider I suppose I'm a lot to swallow. I'm gay. I have not accepted Jesus into my life (LOL). In highschool we were those kids your parents told you to stay away from, too bad a lot of kids didn't listen, they'd probably be better off now. I do lots of things that are quite disagreeable, but I've gotten far in life with my "terrible" habits. You only live once, I'll experiment all I want! :)

I drink too many energy drinks and expressos. I drive a minivan. I have knuckle tattoos. I love luxurious expensive clothing and designers.

I try to update every day, and I read all of my friends entries thoroughly. I also post a list of 5 things every day, rather if be five reasons I smiled, five new things I did, five things I ate, etc.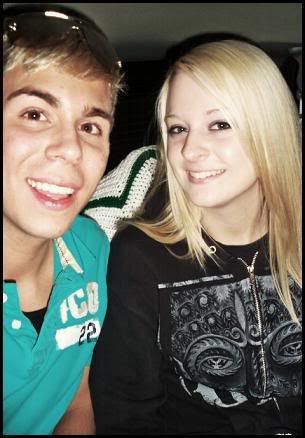 This is me and my best friend Rachel.