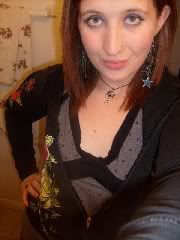 Name: Della
Age: 19, I'll be 20 in December
Location: Orlando, FL

Loves: reading, writing, photography, drawing, parties, alcohol, marijuana, shopping, coffee, black nail polish, menthol cigarettes, cursing, musicals, metal, 80's music, horror films, romantic-comedies, my hair straightener, cuddling with my boyfriend, cartoons, tuna sandwiches, oysters, cheese, vampires, the beach, thunderstorms, my Peter Pan-like persona of things, friendship, etc.

Dislikes/Hates: being told what to do, people who waste food, having to repeat myself, homophobes, guys who wont be my friend just because I wont date/fuck them, bible-thumpers who try to shove religion down my throat, people who actually think they're a vampire/werewolf/of the Harry Potter world/etc. THAT'S ANNOYING, STOP IT!, being lied to and being blown off, and there's a lot more…

I'm snarky and witty. I'm sarcastic and straight to the point. I don't take shit from people and I refuse to be a rug. I'm nice when I want to be and when I see it's beneficial to me and my surroundings. I refuse to show any respect for anyone unless they show me respect as well. I don't care if they're my elder, the pope, or whoever-the-fuck. If you don't show me respect? Then you can suck my dick.

I'm a party-goer and I live my life on the edge. I enjoy danger and adrenaline rushes. I also enjoy to stay at home and read a good book/watch a good movie/cuddle with my boyfriend from time to time. Somedays, I need a break too.

If you have a problem with discussion about drugs, alcohol, pranks, sex, gore, etc. then you probably shouldn't add me

But, if you ARE interested? Then comment my Friends Only post, add me, and I'll get back to you.

OTHER INTERESTS OF MINE!

Music:
Dimmu Borgir, Job for a Cowboy, The Misfits, Smashing Pumpkins, Tegan and Sara. Lamb of God, Chimaira, Lacuna Coil, Evanescence, Paramore, Alexz Johnson, Taking Back Sunday, Sublime, Korn, Ghost Machine, Nothingface, American Head Charge, Billy Idol, Combichrist, X-Fusion, Lady GaGa, The Veronicas, The Red House Painters, Dave Matthews Band, Boys Like Girls, Fall Out Boy, Underoath, The Used, The Deftones, etc.

Movies:
Almost Famous, Labyrinth, My Cousin Vinny, Thirteen, Perfume: The Story of a Murderer, Hannibal, The Silence of the Lambs, Hannibal Rising, Red Dragon, Face Off, Alice in Wonderland, The Notebook, any Johnny Depp movie, Little Monsters, Knocked Up, Zack and Miri Make a Porno, ANY Kevin Smith movie, The Nightmare on Elm St films, Crank, Queen of the Damned, Interview With a Vampire, Heathers, Poison Ivy, Doomsday, Eastern Promises, Run Fat Boy Run, Return of the Killer Tomatoes, The Last Supper, etc.

Books:
Anita Blake, Harry Potter, Twilight, New Moon, Merry Gentry, Cirque Du Freak, Vampire Academy, The Outsiders, Don't Say A Word, Where the Red Fern Grows, Tithe, Valiant, Ironside, Gemma Doyle series, Sookie Stackhouse series, etc.



P.S. I comment and post regularly.