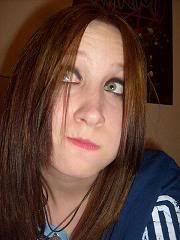 Name:
Holly/Della
Age:
19, I'll be 20 in December
Location:
Orlando, FL
I'm snarky and I'm witty. I can be an asshole when I want to be, but I'm a lot of fun to be around.
I post about my everyday life, friendships, anger, my boyfriend, movies and books, random quotes and songs, short stories, pictures, parties that I go to, adventures that I inhabit, and a lot of other stuff.
I'm looking for more friends to add who like to converse. I want to make life-long friends, whether that's over the internet or not. I don't want to be just another number. I comment and post regularly. So I expect you to do the same.
Loves & Obsessions:
Coffee, menthol cigarettes, parties, Harry Potter, True Blood, alcohol, metal & industrial, indie music, vampires, werewolves, paranormal activity, shopping, photography, horror films, 80's music, cheese, thunderstorms, oysters, ville valo, hannibal movies, x-men, degrassi, Twilight, reading & writing, etc.
Dislikes & Pet-peeves:
being told what to do, people who waste food, people who think they're actually vampires, werewolves, etc. STOP THAT! It's annoying, homophobes, having to repeat myself, guys who wont be my friend just because I wont date/fuck them, bible-thumpers who try to shove religion down my throat, bein lied to & bein blown off, etc.
If you would like to be my friend, then please
comment
the
friends only
post and add me. I will NOT add you unless you add me first and comment me to let me know where you found me and exactly why you are adding me.
But other than that, I pretty much add everyone. :D