Hello. I don't really know what to write in these things but I'll try.
My yahoo!messanger is saidspoon@yahoo.com (so you can totally just add me and we can talk about nothing and everything.)
You can just call me abitfolly or any variation of that. I seldom give out my name on the internet :P
I AM a girl, 15. Turning 16 in October.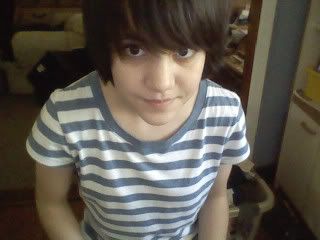 I use to have a blog but I felt it was filled to much with annoying things about myself so I made a new account here on livejournal.
I guess I like to think that my writings are enjoyable and funny. Thats what my sisters tell me anyway. I'm can be pretty sarcastic and condescending, haha, But its all in good fun.

I have a morbid sense of humor and I'll find the funny things in every horrible moment just to get through it sane enough.

LIKES:
Hmm... I love drawing with a passion. I mostly sketch realism and randomness. Its sorta my THING. I'm into anime and that sort of thing too. yes, yes, call me a nerd or a dork if you will but I don't really care. I also play the piano and am learning the guitar. I think martial arts is wicked cool. I did some for a year (then i couldn't afford it any longer) I like old games like Super Mario World 3, Yoshi's Island, Donkey Kong 64, Zelda: Link to the Past, Cool Spot, and others like that. Although I don't get to play very often since I'm swamped with homework all the time. I love getting scared, so I try to watch as many scary movies (and camp out into the spooky woods) as I can. I love feeling the rush of adrenaline, so anything that 'll get my heart POUNDING I'm up for. I like spicy food. O__O random much, but eh.

DISLIKES:
Uhh... I dislike... chocolate (Except for the occasional dark chocolate... NEVER milk.) hmm.. I dislike annoying people, fake people, people who say they hate drama but really don't and people who only talk to hear themselves talk, heh. But I'll refrain from telling them off cause I usually don't wanna hurt feelings. I also have NO patients for girl drama. I refrain from boyfriends because I know that's where it leads to. And I hate rainy weather. It always makes me feel shitty. Especially when its rainy and humid. Thats the worst!


Well thats all I can think of. Add Me!! Please?