Forgive me, I am horrendous and introducing myself.

I've just switched from my old journal (
lisaeatsbrains ), I'm not really new to LJ.

My name is Lisa :)

I am a twenty-two year old mother to be (October 11, bring it on!) from New Zealand.

I like graphics design, body modifications and punk music. People watching, twirling my hair and making people smile.
Lying in the sun and reading, feeding the birds and shopping.
Horror movies. Stephen King. Dean Koontz.

I have provided you with some visual stimulation.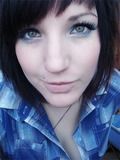 &now you shall add me :)