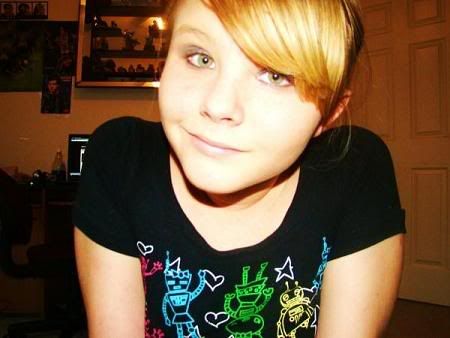 The name is Geri Christine.
There isnt a lot to know about me I guess you can say. I'm still young; still a kid in many ways.
I'm bisexual, and honestly I think I like girls more.
Its a shame it is cool to be bisexual nowadays
cause people will think when I say that I try to be cool.
I really couldnt care if I fit in or not.
I love musicals, my favorites are RENT, phantom of the oprea, Sweeney Todd, and Cats.
I live in good ole Florida and I'm not a fan of it. I really enjoy cold weather and here flipping 70 degrees is a cold front.
So, that doesnt work out for me I guess you can say.
I'm not some scene emo kid, so what; I like the style. Please just give it up.



I notice people say that music is there life but honestly it isnt mine. I think I'd live without it, then again I dont want to try that thoery. I like a lot of different musics, I have anew favorite band every day but all in all my favorite Fm static, HIM, Panic! at the disco, My chemical romance, EatmewhileI'mhot, and Gym class heros.

I really like to write poetry but I kind of stopped after a while yet I plan on starting again. I love photography, and art. As in paintings and everything. I'm mostly an artist in the making. which isnt what I think, I've been told that. I'm not ashamed but that though. I love art and such.

When I write I'm mostly going to write about whats on my minds and what I think about that. so, I really will read your things. I'm here to make friends and view what other people think.