Allo'! My name is Lauren, I am a 21 (nearly 22!) year old female from Toledo, Ohio but currently living in Nashville, Tennessee.

My heart is in the mid-west but for a number of reasons I am in the south. My journal has been a bit forlorn as of late, but I typically have random babblings, funny pictures, and vegetarian recipes.

A list of things I love so you know a bit about me: whiskey, leggings, The Ninja Turtles, Archer, Death From Above 1979, Muse, South Park, Sabriel, Starcraft II, Pretty Little Liars (shut up, I hate myself for it), reading, xbo 360, zombies, heels, ducks, baking, sewing, owls, Android cell phones, blowing bubbles, green tea with mint, Buffy the Vampire Slayer, Lily Allen, vegetarianism, glass bowling, makeup, and pie.

At night I love to ride with the windows down to feel the breeze, I eat my cereal with ice in the bowl, I bake when I am sad, and I love vinyl records for no good reason.

I am a full time student and work part time for T-Mobile, in between all that I tend to rant at my journal. I love to comment and am just looking for people to give my journal some input at a complicated time in my life. If you are interested feel free to add me!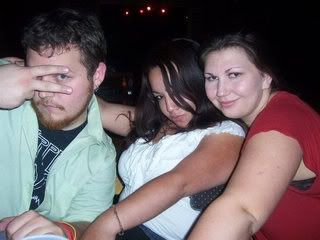 I'm in the middle :D