☆ ~ L i l y / 睡 蓮 ~ ☆
S u i = sleep/asleep. R e n = lotus.
S u i r e n = W a t e r L i l y.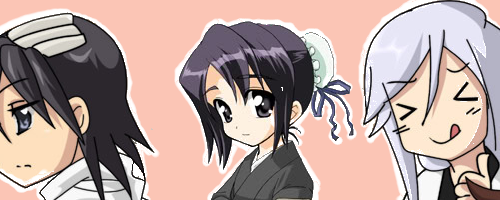 A little about me!


♪ Name: Lily~
♫ Gender: Female.
♩ Nationality: Saudi. O_O

♬ Likes: Fun, friends, drawing, roleplaying, winter, snow, giggles, honest/kind people, brave people, Anime, sleeping the day away~.
♪ Dislikes: Angst, close-minded people, being woken up, nightmares, SM (Twilight), constipation, unrequited love.

♫ RPs?: Hinamori Momo, Ukitake Jushirou, Katen, Kanna, Kuchiki Byakuya, Madara Uchiha... AND MORE.
♩ Where?:


Reverie lane. (My home~),
Luner Abyssus. (Nice place~),
edensphere (Scarily big, b-but I guess I'm getting into it?)

♪ Favourite past-times: drawing, reading, jump-rope, video games!, role-playing, singing?
♫ Hobbies: playing the piano, organizing things.
♩ Personal traits: easy-going, lied back, rather naive. Hahah.

♬ Contact: Senbon_Zakura_bya_Kage_yoshi@yahoo.com ~ FishingBabys@live.co.uk

----What I want in a friend?----

As long as you have an opened mind, and aren't scared of saying what you have on your mind... we can be friends! Umm, maybe if liked some of the same anime? That would be a nice bonus!

Any Bleach fans out there~?

ALSO. Please, please... don't be one of those people that think Islam is all about Jihad and what not. 'Cuz hurting yourself and completely innocent people is not Jihad.

Umm, that is all! I'm rather okay with anyone and everyone~<3

Comment to my "ADD ME" post. Not this one.