I've posted here before, but I'm always looking to make some new LJ friends...soo I'm back. O:-)

My name is

Laura

and I'm 22. I am Dominican/Italian/American (duh). I was born in the D.R. but adopted as an infant and raised in the US and Italy. Soo...if I post a picture of me with my family...that's why I'm the only non-white one lol.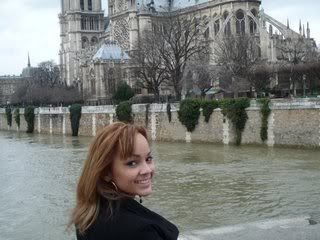 I love hot pink, my 2 cats, (most) musicals, platinum blonde hair (even though that will probably never happen for me), a wide range of TV shows, very high heels (I'm only 4'9), sexy dresses, and a great bowl of pasta.


I like to write about...whatever pops into my mind. My journal is mostly about my life...I like to find excitement/humor in every day things. I can turn an average day into a dramatic" entry lol. Sometimes I get a little webcam-happy when my cats are around, but I promise, it's nothing extreme or annoying. :)

I am sweet and kind, but I do have a wild, impulsive, live-for-the-moment-not-for-the-future side that is (LUCKILY) controlled by daily meds (legit meds, not illegal drugs lol...I'm bipolar/ADHD).

I have a wonderful fiance named Lamar. He's 25. We have a very strong and unique relationship. Lamar came into my life during one of my "wild phases" and helped me get through it. Even though I still have my moments, I think that, deep down, he embraces my more "passionate" and pleasantly crazy side.

We've been together for almost two years now, and we're engaged. We will be getting married once we're BOTH done with college/have jobs.

I have an old LiveJournal from a few years ago that I updated consistently for at least a year or two, and if, for some reason you feel like reading about THAT side of me, feel free to ask me what that LJ is.

Most of my entries are happy & positive...sometimes I like to "daydream" and write about my hopes for my future...and sometimes (very rarely) I can be negative nancy and bitch and rant...those are amusing to look at later.


I'm in community college for now...but I'll be graduating in the Spring and finally transferring to a 4 year college.

I travel a lot (my father LOVES to travel so he often plans random family vacations)...just got back from Paris not too long ago.

I lived in Italy for 3 years...I speak Italian fluently. Chi vuole imparare l'Italiano?

I'm very open minded and love meeting people from all walks of life. I'd love to read about your life. I hope you'll love to read about mine.