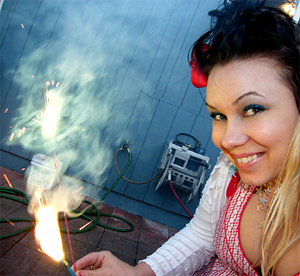 I'm Cherany, a 27-year-old from Atlanta, now residing a few minutes outside of Portland, OR. I like to travel and have been abroad, but money has been tight the past couple of years, so my adventures have shifted closer to home. There is fun to be had any place, I believe.

The first thing most people notice about me is my style. I'm a lover of clothes, practically a collector, but I don't follow trends or pay big bucks for labels. I'm into color (I like to think of myself as a walking rainbow), and I love things that are girly, flashy, and fun. A huge portion of my wardrobe is secondhand, acquired at free clothing swaps, garage sales, and Goodwill Outlet (this is where the stuff that does not sell at Goodwill ends up; clothes are sold by the pound & cost next to nothing). When I buy new, it's either off the clearance rack somewhere or from a cheap website. I take pride in putting together outfits that garner more compliments than the number of dollars they cost.

I'm a social creature, so I hang out with my friends often and take a lot of pictures, which I slather my LJ in. Fun for me is a meal out and some form of entertainment. I'm a fan of community theatre, from plays and musicals, to improv theatre, to stand-up comedy shows. I like the big productions, too, but they're a drain on the wallet, so I get to a lot more of the small productions. I also love performing arts like ballet and figure skating and try to see those things when I get the chance. If I could spare the expense, I'd see some type of performance every day. The opera is the one that has eluded me thus far, mostly due to the cost, but I intend to get there sooner or later.

I live with my girlfriend of more than four years and two rescue dogs I've had about five years. We're child-free by choice, but I frequently borrow friends' kids and take them out for fun. I find it's the best of both worlds: I get to enjoy their company, without being responsible for their entire upbringing. I do post lots of pictures of kid activities, but it's usually balanced out by grown-up stuff.

I get along with most people online, but whether we'll really click or not, it's hard to say. I add pretty much everyone who adds me, read the entries that interest me, comment when I have something to say, and usually keep my friends until they remove me or leave LJ. Some people, I form really close friendships with, and others, I never seem to get past, "Cute pictures!" with. Both types of friends are ok with me. I'm not going to take it personally if you decide we don't click and remove me.

I might not be the friend for you if...

- you don't care for posts filled with photos, mostly of people & frequently of kids
- you're annoyed by cutesy graphics
- you've never heard of a paragraph break (I'm unlikely to read your entries)
- you don't like happy people (I'm not sorry for being one)

Otherwise, just being a decent person is enough. Looking forward to making new friends!