Hello, Dudes and Ladies!

I've been doing this old LJ thing since high school, but lately my FL has been missing a certain je ne sais quoi. So here I am.

I am:
-Female
-24
-Very recently married
-A veterinary nurse/wannabe veterinarian
-A former journalist/writer (didn't make it very far in that field)
-An avid equestrian (have my heart set on eventing this summer with my OTTB gelding that I've had for almost a year now)
-In a seemingly infinite state of existential crisis

Likes:
-All creatures, great and small
-But especially horses (of which I have one) and dogs (of which I have two)
-Reading and stockpiling books
-"Indie" music - whatever that means anymore. (All-time favorite bands = Rilo Kiley, The Flaming Lips, Neutral Milk Hotel, Why?, Animal Collective, and others along those lines.)
-Proper grammar and spelling
-Wes Anderson films
-Open-mindedness
-Intellect
-Fun-loving cynics
-The shaking of groove things
-Puns
-Art (all kinds, though I make very little anymore)
-Science!

Dislikes:
-Khakis
-SUVs
-Right wingers
-The color purple (not the book)
-Chocolate milk
-Air conditioning
-Trying to sum myself up in nutshells like these.

Lately I've been writing a LOT about my horse, but I promise I'm making an effort to diversify. I also write about the trials and tribulations of my job and trying to decide what to do with my life. I'm trying to write more poetry.

This is me: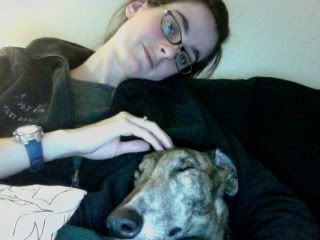 The one on the left.