So You've Acquired A BennyBunny Live Journal Friend

Congratulations! You're probably a well dressed, dapper, contemplative soul, aren't you, friends coagulating around you in puddles of adoration, whilst they spoon feed you caviar and Ferrero Roche, wiping your derriere on the Queen's swans and generally find you smell like cinnamon buns. You're amazing. You've probably invented a new kind of dessert that doesn't even need a spoon, haven't you. You'll probably be made mayor or something.

Well, you have definitely chosen wisely! The BennyBunny2011 is the latest in affordable, low maintenance friend technology. It is ideal for the casual and serious internet user alike. Robust, energetic, has that sort of charming new car smell, as he is often found sleeping in them. You will wonder how you lived without it! Well probably. Let's save hyperbole for when we really need it. You might wonder quite a lot of other things first, but reassured, you will wonder.

Getting Started

Once you have obtained your new friend, he will endeavour to post often, and comments on other's posts whenever possible. Unless he goes to prison or something. We probably shouldn't joke about it, his enemies are powerful and numerous. This is what happens if you're stupid enough to get consecutive jobs in retail and finance, isn't it. We're rebranding the name of our product soon, suggestions are welcomed. So go on old fruit, open the box saying 'add' and click to complete your registration, and potentially you will be entered into a prize draw for a delicious twix chocolate bar! It's caramel, it's chocolate, it's a party in your mouth.

Key Features

Your new BennyBunny is keen on a number of topics- he mostly writes poetry and semi autobiographical observational prose, there will be photos at some juncture once the ol' piggy bank is ransacked for a new camera, keen to return to performance art/short poem combinations, but that may be a way off. He is currently looking to work in theatre again in a land far away. It's not Narnia, but they do have a wardrobe, which is how magical things begin.

Anyway, he loves sport [football, rugby, cricket, wrestling particularly], music [he used to do reggae and latino music nights but he likes jazz, rap, rock and so on], films and books in equal quantities, is delighted by posts on the same, but is particularly keen to see new poets/prose as it's nice to have other writers to bounce things off and learn from. That would be ace, like finding a packet of unattended jaffa cakes in an open car boot whilst a man is returning his trolley to the bay at the supermarket.

How Your BennyBunny Should Appear After Assembly

If you have assembled your BennyBunny correctly, he looks like this: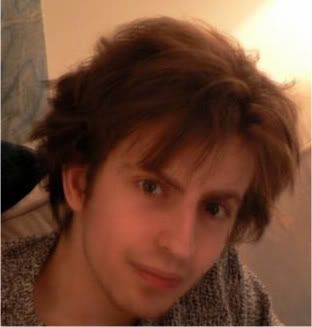 Even if you haven't assembled him properly, he will still look like this. Tragic really. Two people, who must have spent a considerable amount of time, life and money creating something, and this, this is what they delivered. Makes you sick, doesn't it. He's growing a beard now to aid in some sort of disguise from the public that loathes him. The beard might help, but you know what they say about lipstick and pigs. He's an actor, I bet he uses lipstick as well, the tart. That's the recession for you. The arts are always the first to suffer.

My BennyBunny Doesn't Work? What Should I Do?!?

That's probably pretty distressing for you. He's 27, he really should be working again by now, shouldn't he. I gather he's looking for a job again though. Still. It's not acceptable, is it. You tell him off from us! What would his mum say?

Oh She Doesn't Work Either, The Lazy Cow. And I *Actually* Meant Some Parts Weren't Included! What Should I Do?!?!

Golly, that sounds fairly serious. Well imagine the mad-cap japes they might get up to together with all that extra time, that's my consoling motto. if things escalate, be sure to let us know. Small domestic fires, rampant blue language, flooding etc. Your call is important to us. He's just a bit storm damaged. Well look, we'll give you this one free as a grace gesture, and so you don't go badmouthing us to The Daily Mail or something. That wouldn't end well for anybody. But don't tell anyone. I mean it.

Everything must go! Whilst stocks last. Except No Substitutes. Do not leave in direct sunlight or drop in a bath whilst plugged in.