(x-posted to
add_me)

As the weather cools down and I become more active (and more willing to exist), i'm looking to find some new, interesting LiveJournal friends

☆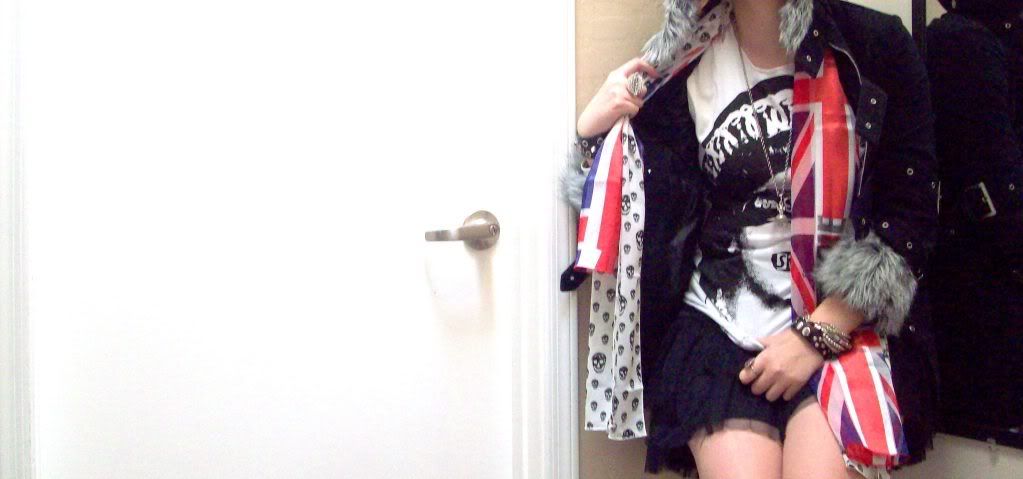 I'm
catsandmangoes

</lj>

I am 19 years old and female. I live in Southwestern America where it's so hot that the sun can melt your soul.


I am an animal lover / rescuer and vegetarian who is anti-breeding (Professional, Backyard or otherwise), and anti-leather / anti-fur.

I'm also a fashion and makeup enthusiast with a love for British and Asian fashion. If you want to get a bit of a taste of what kind of fashion I adore, take a look at urbanGOTHIK and mix it with a touch of SECRET. I love the colors black, white, red and I adore glitter and leopard print.

I'm an Atheist, a feminist, pro-choice, pro-gay rights, hetero-flexible and extremely liberal. A lot of my opinions tend to be controversial and unapologetic.

I love cooking, baking and exploring new cuisines. I'm extremely body and food positive (This beautiful woman is one of my inspirations for these reasons), as well as sex positive (although i'm a prude myself).

I am very touchy when it comes to discrimination. Very, very touchy. I hate stereotypes, racist jokes, racial fetishes, and things of that sort.

My pride and joy are animals and their welfare. I've volunteered for multiple animal rescue organizations and done many rescues of my own. My biggest passion are feral cats and cat colonies. I'm currently an intern at a Zoo & Aquarium where I hope to gain the experience to use for a future in Species Conservation and / or Wildlife Rehabilitation.

What you'll find in my journal is a mixed bag, but you will always find tons of pictures. I'm a very visual person and I think I can showcase my life and likes most through photographs. I post lots of pictures of my animals and rescues - If you add me, you better be prepared for an onslaught of cats!

If you're interested in my pop culture preferences or fandoms..
My favorite musician is

ムック (MUCC). Other musicians I adore include

대국남아 (DGNA)

and 시크릿 (SECRET).
My favorite videogames are the Ace Attorney series, all Kirby games, the original Pokemon games, and Fragile Dreams: Farewell Ruins of the Moon.
My favorite anime series are Darker than Black, Kimi to Boku, Natsume Yuujinchou and Ghost Hound.

My Tumblr contains all of these fandoms and more. If you're interested, you can check it out.
yukkemango @ Tumblr


What i'm looking for:


☆People who are open minded, liberal and understanding / involved in politics and policies.




☆People who love animals, rescue animals, or simply enjoy looking at animals! If you're vegetarian / vegan or an animal welfare conscious meat-eater, i'll love you all the more.




☆People who have amazing, interesting tastes in fashion and style and post about said things.



Warnings / What i'd like to avoid:


☆If you hunt or fish and post tales or pictures of these adventures or if your journal is a catalog of the steaks you've devoured in your days, it'd be best not to add me.




☆Additionally, if you breed animals and post about it, we will end up fighting.




☆I consider myself forever child-free and I generally don't like children. I don't mind people who post pictures of their kids, but I thought i'd mention this just in case.




☆

If you're at all conservative, I will end up offending you at some sort. However, I have no problem with people who are liberal and religious, regardless of what religion you're involved in.


☆I have a potty mouth and curse constantly. My sense of humor can be a tad bit dark and morbid, but rarely

offensive for the sake of being offensive.


☆If you have a discriminative sense of humor or any vocal and outstanding prejudices (Whether sexist, homophobic, racist, etc.) then no.




☆

If you post a lot about American or European pop culture or media, I won't know what you're talking about. You can still add me, of course - But I just won't know how to comment!




Edgeworth kindly suggestions for you to note the section above in order to avoid future shenanigans.




I post at least once a week minimum and I comment as often as I have something to say. I always try to make an effort to comment on entries if someone is in need of advice or comfort. I'd definitely like to meet people who I could develop a further connection with.





If you think i'm your type of person or if you think you'd be mine, feel free to send me an add. This will be my second or third time posting here and so far i've reaped the rewards; a handful of great friends.