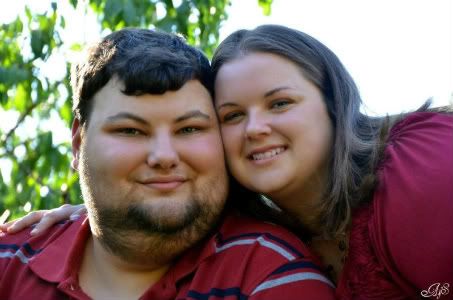 Hi! My name is Amanda. I'm 29 and have lived in Kentucky all my life. This is the love of my life in the pic with me. We have been together a year and a half.

I am an only child. I have a dog. He is a West Highland White Terrier (aka Westie).

I currently work two jobs. I have been a preschool teacher since 2005. I have worked at Kohl's (a department store in case you don't have one where you live) for a little over a year now.

I love: Nascar, especially Jimmie Johnson (but I haven't watched much this past season), butterflies, photography, tattoos, reading, writing, tv shows and music. I have two tattoos: one is of a treble clef on my ankle and the other is 3 butterflies and some swirls on my upper thigh.

I love to eat (obviously). I love Mexican and Italian and a good steak if it is cooked to my liking (meaning practically no pink). I love icecream and would eat it daily, most of the time I do.

Some of my favorite bands are : Saliva, Seether, Puddle of Mudd, Nickelback, Sheryl Crow, Paramore, Tegan and Sara, and Evanescence just to name a few.

Some of my favorite movies: The Girl Next Door, Disney's animated version of Alice in Wonderland, The Burbs and Oh Brother Where Art Thou.

Favorite TV Shows: Roseanne, Buffy, Girlmore Girls, True Blood, Supernatural, Grey's Anatomy and my new addiction is Sister Wives.

I love to travel! My parents and I are always on the road somewhere is seems. The farthest away I have been is to Hawaii a couple times with my parents and we took a Disney cruise to the Bahamas in 2001. I have flown to California a couple times to visit my best friend.


Ok, so that is just a little bit about me. Feel free to ask any questions.

Looking forward to making new friends!