Alrighty. I was into my journal pretty hardcore then ignored it for about 2 years and now I'm back. I'm assuming a lot of past friends aren't around anymore and so therefore I need new ones. This is where you come in. :D Soo, about me and what to expect from being my friend!

Over the past 2 years I've lost about 130 pounds so I'll talk about this a lot. It has changed my life and I'm still learning how to live with the changes.
I'm a full time nanny and act as if the children are my own. I'm also in school to be a social worker. Lovelove kids. <3
I love taking photos and will probably add a lot of them into my posts.
I'm 23, single and know how to party. Am I an alcoholic? No. But I do go out and I throw the best themed parties! So, if youre one of those people who looks down upon it (which ironically seems to be a lot of people on here) you probably shouldn't add me. haha.
Music, books, video games and my TV shows take up what time I have left after work, school and friends. I'm truly a nerd at heart and I can never get enough of any of them. Some favorites are A Day To Remember, Andrew Belle, Jason Aldean, Harry Potter, anything Sarah Dessen, historical romances, Gears of War, Left4Dead, One Tree Hill, The Vampire Diaries, and Bones.
I have a puppy who is 8 months old and she is my baby. I rescued her and couldn't begin to tell you what she is. She looks like a tiger. I'll be sure to post a picture in my journal soon.
I'm addicted to Pinterest. Like, seriously waste hours of my life there. However, I love to cook and love DIY crafts so at least I'm productive with my obsession. I'm sure I'll post a lot about everything I make/cook.
That's about it. I'm generally a laid-back, carefree person who is just honestly learning how to enjoy life as it comes at me.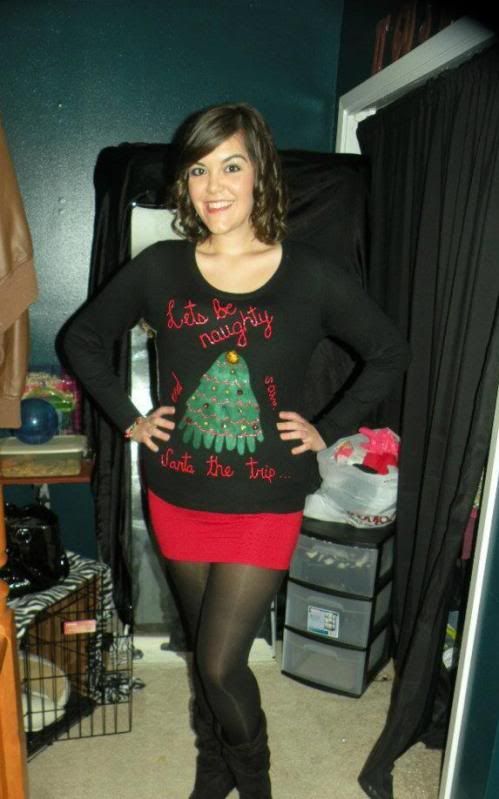 Oh, yeah. This is me. At my Tacky Christmas Sweater Party. (Did I mention I love themed parties?)