I debated whether I was going to post during the craziness of the spotlight. But I figured I might have a shot to meet even more cool people this way. So what the heck, here it goes.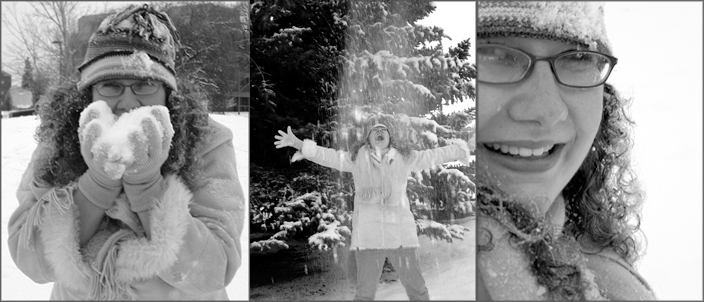 Melanie is a twenty-six years young former newspaper reporter/photographer who grew up in a small town by the water in Washington and is now trying her luck in the city, still by the water. She's a happily taken, blue-eyed, curly brown-haired French/Scottish/German/English American Gemini who is living life to the fullest. She's a writer, reader, photographer, smoothie-aholic, music whore, hiker, camper, sailor, stargazer, dreamer, sports nut, gamer girl, chocoholic, shy social butterfly, sometimes shop-aholic, half movie junkie, wannabe traveler. She's honest, caring, patient, loyal, stubborn, easy-going, optimistic, bubbly, liberal-leaning open-minded Christian who talks a ton and is a great listener. Her journal is NOT censored. She writes about work, family, guys, sex, emotions, frustrations, lame things that make her giddy and life in general. Please be 21+ before attempting to add her.


♪♫♪ Who I am, Who I'm not and Who I wanna be ♪♫♪


No, I don't always write in the third person.
Yes, I do love to comment and receive comments. But no, I don't do it or expect it all the time.
I'm also not a fan of friends cuts, so you can expect to stay on my friends list unless you either disappear for more than a year, delete me from yours, or do/say something to me that is cruel and unnecessary. And even in that last case, I've been known to move past it.

Anyway, I've been on Livejournal since 2003. I owned one other journal before this one, then spent some time over at Greatestjournal, but returned and created a new name for a new start. I transferred most of my entries over from past journals, but I'm still working on some of it periodically.
My profile has more information about me if you care to know anything else. I enjoy meeting new people, and I treasure the friendships I've made on LJ over the years.

I do have one simple request: Please comment if you are going to add me. I'm not going to fill my list with people who won't even say hello.

Thank you, and happy adding!