Hi
add_me, my name is Josh. I'm 32, I live in Canada's far north and I'm fiercely loyal. Above all in new LJ friends, I'm looking for people who are committed to LJ - who've been around here for a while and who don't plan on leaving.

I'm a pretty happy guy, and I don't mind telling you about it in my journal. My life has ups and downs like anyone's, but in the main, I'm pretty thrilled about how things are turning out for me. I'm madly in love (getting married in about a year), I work in a job that I really dig (working on First Nations educational issues at the local college) and I live in maybe the place I would like to live more than any other.

I write about all of these things in my journal. I try, sometimes, to engage my readers by asking the audience questions, or at least consciously writing about stuff that other people can relate to. I write about my interests sometimes too, and you can find out what those are and see a picture of me under the cut. Big, broad things that I love or am interested in include hockey, television, music, Canadian politics, media/journalism, comedy and booze. And I've been known to smoke a little, too.

Now, specifics...

Television: Happy Endings, The Middle, Modern Family, The Good Wife, Bob's Burgers, Raising Hope, 30 Rock, anything Law & Order, Community, everything with Gordon Ramsay and so many others. We are big TV fans in my household. Oh, too much HGTV for my own good, too. I harbour a not-so-secret crush on Sandra Rinomato.


Music: It's all about Motown and (Northern) Soul for me.


Politics: I'm a lefty (I'm an on-again, off-again member of the NDP), but I love respectful dialogue and debate and I think my righty friends will back me up on this. Mostly (but not exclusively) I'll post about Canadian stuff. I grew up in Ottawa, spent my 20s in Montreal and now live in the Yukon, so those are the parts of the country I'm most familiar with/write about most.


Comedy: Anything that I guess is described as "alternative comedy" is usually up my alley. I listen to a lot of podcasts. Comedy Bang-Bang is my favourite, but I also listen to some of the maximumfun.org ones or WTF from time to time. When we plan vacations, my girl and I place great weight on seeing standup if we're traveling to a big city.


Hockey: Kind of obsessed with my hometown team, the Ottawa Senators.


Alcohol: Lately mostly wine and whiskey, but usually if there's a tap handy, I'm drinking pints.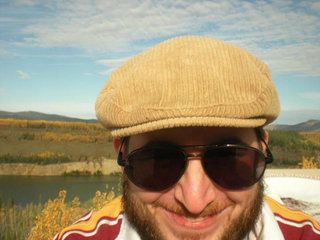 I post somewhere between 5 and 10 times a week - sometimes it's 20 words, sometimes it's 2,000 words, sometimes it's really boring, sometimes it's not (or so I like to think at least). I look forward to getting to know some of you. :)