Hello! :) I've been using LJ for quite a few years now, on a few different journals but mostly this one, and over the past year or two it's been really disheartening to see my flist activity dwindle to almost nothing when it used to be so active! So, I'm definitely looking to meet new people who update at least-semi-regularly.

A little about me: my name is Jane, I'm 20 (21 next month) and I live with my fiancé (we got engaged about a week ago!) in the UK. My interests include music (I am a kpop fan but my music taste is ridiculously ecletic), reading, writing, travelling, downloading excessive crap for Sims 2, shopping, Sailor Moon, Hello Kitty (I sort of collect Hello Kitty stuff), and planning out my dream house in my head. I really like animals and we're definitely planning to get a dog or a cat someday. And I can't lie -- I secretly like watching all those bad MTV reality shows.

As of right now I occasionally rant about the useless people we're renting our house from, haha, although at least you'll have missed all the months of housemate ranting. In general I mostly write about my everyday life and I try to update at least once a week. I do post pictures of things in my life fairly frequently but I resize them to be pretty small and I (try to) post only one outside of a cut.

This feels pretty short lol but those are the basics, if there's anything you might want to know feel free to ask! Please leave a comment here or on my friends only post if you want to add me, just so I can keep track of things.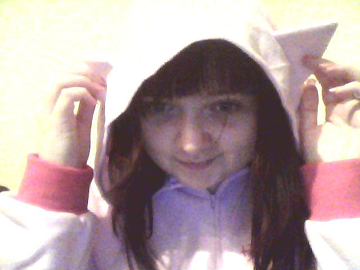 me in my new Hello Kitty snuggle suit. the tip of the iceberg that is the collection.