I've met some really wonderful people here this year who really revitalised my previously dead friends list so I just thought I'd squeeze in one more post here before the end of the year :)

My name is Jane, I'm 21, and I live in the UK (originally from Belfast, but currently/temporarily living in Wales!). I live with my boyfriend (who is originally from Herefordshire), and we got engaged in October.

I REALLY love music: I'm really really into kpop and jpop but I like music from all over the world and generally tend to listen to almost anything! I also love playing Sims 2 (and various other videogames, but The Sims has my heart) and I collect Hello Kitty merchandise. I enjoy travelling and eating at restaurants and taking naps. I love Sailor Moon and I sometimes dream about having unlimited money to design my dream house :p

I read absolutely everything on my friends list, and I'll comment any time I have something to say (which is fairly often, I tend to ramble!). I update pretty frequently myself and usually post a few pictures in my entries (but if there are a lot of them I put them under a cut).

I'm pretty awful at introducing myself but I'd just like to get some more friends like the ones I currently have, no matter what kind of life you lead! So long as your journal is updated fairly often and we can exchange comments every now and then so we can get to know one another, I'm likely to be pretty happy! If you have any questions or anything you can ask me :) You can leave a comment here or on my friends-only post if you want to add me.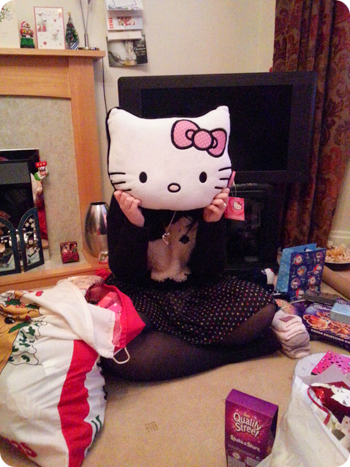 this is the most recent picture of me, with one of my Christmas presents :p