Hey everyone! I'm long time LJ girl (12+ years) and have known some of my girls for over 10 years and have had the pleasure of meeting a handful of them! :] I love getting to know people and would love to make some new friends on here! So, if you make it through this whole thing and are interested, leave a comment and add me :]

My name is KIMMY, I'm a TWENTY-SOMETHING year old Southern California Girl! Very Happily Married. Caring. Compassionate. Creative/Artistic. Dorky. Loving. Funny. Generous. Honest. Intelligent. Glitter/Makeup/General Beauty Addict. Outgoing. Indecisive. Responsible. Romantic. Curious. Sensitive. Stubborn. Bossy (But Nice). Trustworthy. Idealistic. Imaginative. Fiercely Loyal. Sympathetic. Intuitive.

LOVES: my hubby and family, animals, astrology, baking, the beach, being dorky, bubbles, california, cats, chocolate, christmas, crafty things, cuddling, cupcakes, disneyland, dogs, dorks, dreaming, eskimo kisses, friends, glitter, graphics, hand-holding, hot tubs, hugs, ice cream, inside jokes, my iphone, kisses, leopard print, letters, lipgloss, love, m.a.c, makeup, movies, music, new clothes, pillows, pink, pizza, psychology, purple, quotes, rain, reading, romance, sarcasm, sephora, singing, sleeping, stars, starbucks, swings, tattoos, texting, thunder storms, zebra print, web/graphic design, writing.

DISLIKES: liars, hypocrites, cheaters, stealers/copiers, racists, pushyness, people who think they're better than everyone, bullies, horrible drivers, the heat, waiting in line, rudeness in general, loud chewers,



This is me!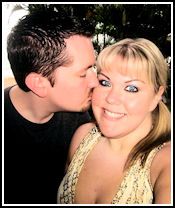 I have a hard time talking about myself or trying to help people get to know me without actually taking the time to yanno, get to know me so, for the sake of simplicity, you can read a little survey I filled out about me here: SURVEY

Looking forward to getting to know some of you!! :]