---------------------------------------------------------------------------------------------------------------------------------------------------------------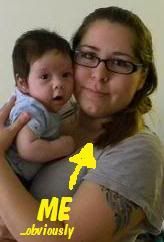 My journal is explicit and may contain:
sex, drugs, violence, immature behavior, mature language,
TMI, blatant ignorance, compulsive rants,
photo spam, stupid home video, and unnecessary opinions.
snoringbeautee
's entries
this week included:
-stupid photos of my 2 month old holding wads of cash.
-me seeing a picture of my biological father for the first time.
-being in the middle of a 3 hour police stand-off. (Pictures included.)
Here's a screencap of my journal stats.


*comment here if you add so I know your not a robot.
-----------------------------------------------------------------------------------------------------------------------------------------