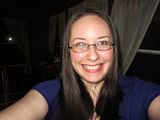 My name is Meghan. I'm looking to make some new friends on here because I seem to have some difficulty with that in real life because I am a pretty shy person. I'm a 24 year old girl from central Pennsylvania who both loves and hates where she is from. I don't have a job right now because I am still trying to figure out what to do with my life. I am terrified of driving, and thus I do not have a driver's license. I have four cats and I love them to death. I love anything that has to do with the paranormal. I am strange, weird, and unique and I am not afraid to admit it. I am also bipolar, and I struggle with things, but I take one step at a time. I am very easy to get alone with…usually. I am also a very open person. I am usually willing to talk about anything with anybody. If I sound at all interesting to you, here are some of the things about myself:
Hobbies

Chatting || Exploring things || Listening to music || Making new friends ||Playing with my cats || Ranting || Reading || Taking Pictures || Waiting for aliens to abduct me || Walking || Watching movies || Watching TV



Interests

Abandoned buildings || Aliens || Ancient history || Ancient Rome || Anything paranormal || Archaeology || Cats || Ghosts || Llamas || Old cemeteries || Old stuff in general || Photography || Tumblr || UFOs || Yard Sales



Music

30 Seconds to Mars || Adam Lambert || Amanda Palmer || Avril Lavigne || Ayumi Hamasaki || Boyce Avenue || Bread || Coldplay || Darren Criss || Darren Hayes || Delerium || Emilie Autumn || Enigma || Enya || Evanescence || Falling Up || Herbert Grönemeyer || Josh Groban || Katy Perry || Ke$sha || Lady Gaga || Loreena McKennitt || Marion Raven || Martina Sorbara || Ministry of Magic || Mythos || Natasha Bedingfield || Plumb || Rihanna || Paul Schwartz || Poe || Sarah Brightman || Savage Garden || Shakira || Sia || Sleepthief || The Beatles || The Veronicas || Tokio Hotel || Vienna Teng || Within Temptation



Movies

9 || Amelie || Atonement || A Very Long Engagement || Donnie Darko || Downfall || Dr. Strangelove (How I learned to love the bomb) || Girl, Interrupted || Ghost World || Goodbye Lenin! || I Love You Phillip Morris || Juno || Kick-Ass || Land of the Lost || Life As We Know It || Lord of the Rings trilogy || Men Who Stare At Goats || Mozart and the Whale || Never Let Me Go || Paranormal Activity || Paranormal Activity 2 || PS: I Love You || Schindler's List || Star Trek 2009 || Superbad || The Edukators || The Lovely Bones || The Notebook || The Social Network || Tristan and Isolde || Wall-e || X-Men: First Class



TV

30Rock || Arrested Development || Criminal Minds || CSI || Doctor Who || Glee || Invader Zim || House || Law and Order: CI || Law and Order: SVU || Paranormal State || Rome || Star Trek || Supernatural || The Big Bang Theory || The Office



Books

Harry Potter Series || Lord of the Rings Trilogy || The Bell Jar || The Da Vinci Code || The Redwall Series || The Simarillion





If I sound at all interesting to you, here are some other ways to reach me:

AIM: Odd Earth Girl
Yahoo: inwe_sindanarie
MSN: meghan723@gmail.com

I write in my journal every single everyday and I'm not afraid to leave comments either. I try to make my posts as interesting as possible and I also write about some very personal things. Add me as a friend and you won't be disappointed. Hope to hear from some a lot of you guys in the future.